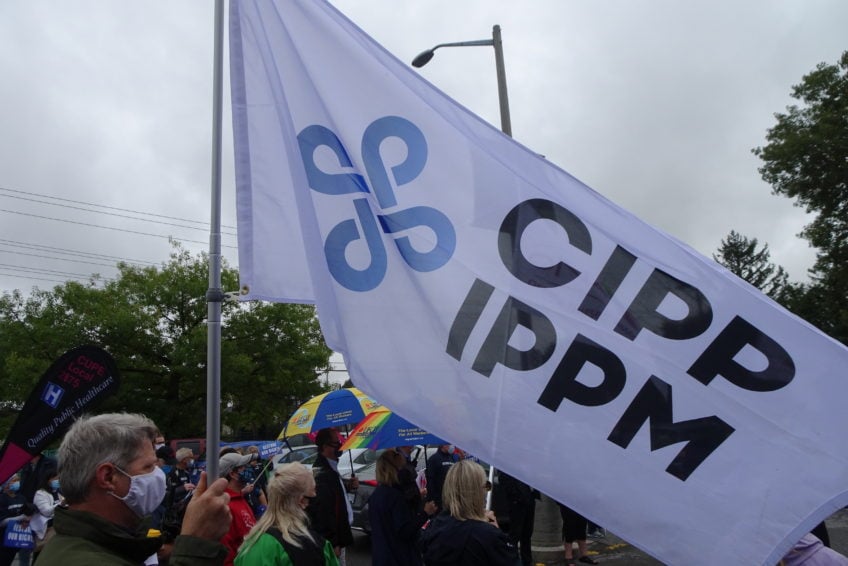 Restore Our Rights: Push Back Against Bill 195
Report on the multi-union rally against Bill 195, Ottawa, September 9, 2020
As many of our Members already know, Bill 195 overrides many of your collective agreement rights.
It allows your employer to change your schedule as they wish, redeploy you, delay career advancement opportunities, and temporarily give your work to someone else – even a volunteer or contractor.
To provide Members with the facts they need to know, CIPP developed an updated information document. This Fact Sheet [click the link to read] describes how Bill 195 violates the rights of Ontarians guaranteed by the Canadian Charter of Rights and Freedoms, particularly those of unionized workers.
To express collective opposition to Bill 195, The Canadian Union of Public Employees (CUPE) and the Ontario Council of Hospital Unions (OCHU) asked members of other Ontario and Ottawa area labour organizations, including CIPP, to join in the fight against this Bill.
At 11:00 am on Wednesday, September 9, 'Restore Our Rights', a multi-union rally to push back against Bill 195, was held at The Constituency Office of The Honourable Lisa MacLeod, Progressive Conservative Party MPP for Nepean-Carleton and Minister of Heritage, Sport, Tourism and Culture Industries.
There were approximately 250 people in attendance [click the links to view the Ottawa Citizen report and YouTube video]. The attendees wore masks and observed social distancing. "Restore Our Rights" rally speakers featured:
Charles Fleury, CUPE National Secretary-Treasurer
Sharon Richer, Ontario Council of Hospital Unions (OCHU/CUPE) Secretary-Treasurer
Drew Haughton, President CUPE 2875 – Queensway Carleton
Lou Burri, President CUPE 4000 – Ottawa Hospital
Laurin Levesque, President CUPE 4721 – Montfort Hospital
Bonnie Robertson, ONA (Ontario Nurses Association)
Sean McKenny, Ottawa and District Labour Council
[link to Sean McKenny's opinion piece in the Ottawa Citizen here]
Further details about the Ottawa rally can be found here:
Want to express your opposition directly? Contact Minister MacLeod at:
Unit 222-3, 250B Greenbank Rd., Nepean, ON K2H 8X4
Telephone: 613-823-2116
Fax: 613-823-8284
Lisa.macleodco@pc.ola.org
We will continue to keep you informed about this legislation and efforts to oppose it.
If you have any questions, please contact us: connect@cipp.on.ca