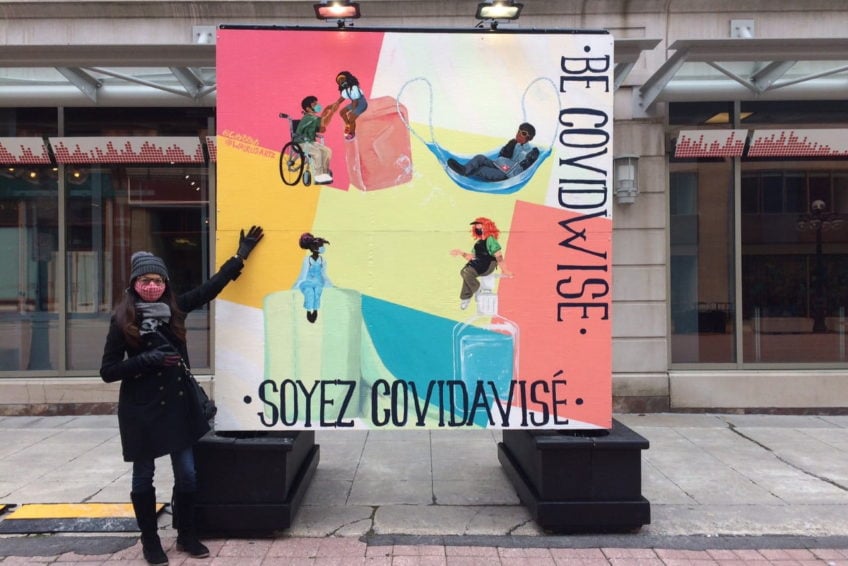 Discover Ottawa's 'Be Social Wise / Be COVID Wise' Mural Art Event
As part of its ongoing 'Be Social Wise / Be COVID Wise' campaign, Ottawa Public Health launched a "Call for Local Ottawa artists" on September 4, 2020 to develop murals in public spaces based on the theme.
CIPP Member Zhaida Uddin, Program Development Officer for Ottawa Public Health and Lead for the Mural Art Project and COVID 19, provides news about the project and the accompanying photo.
"The campaign supports local Business Improvement Areas (BIAs) who advise the public to wear a mask, adhere to physical distancing, and practice good hand hygiene, especially in situations where maintaining a 2-metre distance is difficult.
"This innovative approach, which shares public health COVID-19 messaging in high traffic areas, has generated 45 amazing art entries. A panel of judges from Ottawa Public Health and local Business Improvement Agencies selected the Top 3. The murals will be rotated every two months and are available to any BIA interested in displaying the artwork in their neighbourhood.
"Two of the murals were revealed on Friday, October 9. They can be seen on Sparks Street, and inside the mall building at the Byward Market.
"The mural pictured here was painted by two young artists, Naylissah Aristide and Kiara Whitney. They say their art 'congratulates essential workers for their courage staying out there while the pandemic is in our midst, while also reminding the public to stay COVID-Wise.'
"Besides enabling artistic ventures and new partnerships, this initiative brings images of hope and inspiration to the people of Ottawa during COVID-19."
Please visit @ottawahealth and @ottawasante on Twitter to follow the entire series of mural art reveals.
For more information about "Be Social Wise/ Be COVID Wise", go to Ottawa Public Health's websites:
• OttawaPublicHealth.ca/SocialWise
• OttawaPublicHealth.ca/COVIDWise
Get a preview of the murals by clicking the links below:
https://www.sparkslive.com/post/social-wise-art-on-sparks
https://www.ottawamarkets.ca/art-projects
Photo courtesy of Zhaida Uddin and Ottawa Public Health